Ayurveda for Beginners
The  programme Beginners Ayurveda Course  helps you in understanding the science of Ayurveda, its Mind- Body- Soul and other principles and specialties which one can adopt to keep himself conscious and healthy.There is a unique opportunity in this day and age to lead successful lives by assisting family, friends and clients in creating healthier bodies and lifestyles, thus eventually lowering healthcare costs.
The certified instructors at Ayuskama rishikesh will help you to formulate a deep understanding of this ancient discipline that has been practiced for centuries. The beginners will be taught meditation, chanting, pranayama,cleansing ritual. Any beginner who wishes to develop their Ayurveda practice further can continue their learning here as Ayuskama Rishikesh Further also offers intermediate and advanced levels of Ayurveda Learnings..
Duration :   Four weeks (Sundays off)
Daily two hr class (theory & practical session)
Ayurveda Yoga  anatomy & physiology class ( one hr class from Monday to Thursday)
(Time duration of class can be changeable if  students have doubt & question or Wishes  to practice more, time of the class can be increased or students can practice longer  in extra time)
Tuition Fee :
INR 40000  (without food & accommodation)
INR 71000  (with food & accommodation) Prior booking recommended.
| | |
| --- | --- |
| From Date  | To Date |
| | |
| | |
| 3rd July 2017 | 30th July 2017 |
| 3rd August 2017  | 30th August 2017 |
| 4th Sep 2017 | 30th Sep 2017 |
| 2nd Oct 2017 | 28th Oct 2017 |
| 1st Nov 2017 | 28th Nov 2017 |
| 1st Dec 2017 | 28th Dec 2017 |
| 18th Jan 2018 | 16th Feb 2018 |
| 19th Feb 2018 | 17th March 2018 |
| 19th March 2018 | 16th April 2018 |
| 23rd April 2018 | 21st May 2018 |
Syllabus :
Theoretical sessions:
1. Introduction to Ayurveda
Definition
Unique features
Concept of health
Aim
2. History of Ayurveda
3. Branches of Ayurveda
4.History & Philosophy of Ayurveda
5. Basic principles of Ayurveda
Pancha Mahabhuta Concept
Tridosha Concept( vata, pitta. Kapha)
Concept of Sapta Dhatu (Body Elements)
Concept of Mala (Waste Products)
Concept of Srotas (Body Channels)
Concept of Agni (Digestive Fire)
Concept of Koshta (Alimentary Tract)
Concept of Prakruti (Body Constitution)
Concept of Vikurti
Concept of ama(metabolic toxins)
6. Preventive medicine & Health preservation in Ayurveda
7. Concept of Ayurveda nutrition
8. Basic introduction of authentic Panchakarma
9. Common used oil & Herbs
10. Marma therapy
Practical sessions
Abhyanga (Ayurvedic Body Massage)
Elakizhi (Bolus Bag Massage with Medicinal Leaves)
Podikizhi (Bolus Bag Massage with Medicinal Powders)
Navarakizhi (Bolus Bag Massage with Medicated Rice& milk)
Shirodhara (Oil Treatment for the Head)
Thakra Dhara
Ksheeradhara
Katee vasti (Local Treatment for Low Back Pain)
Greeva vasti (Local Treatment for Neck problems)
Janu vasti (Local Treatment for Knee joint Pain)
Herbal Steam Bath
Ayurvedic Feet Massage
Shiro Abhyanga (Traditional Indian Head Massage)
Ayurvedic Face Massage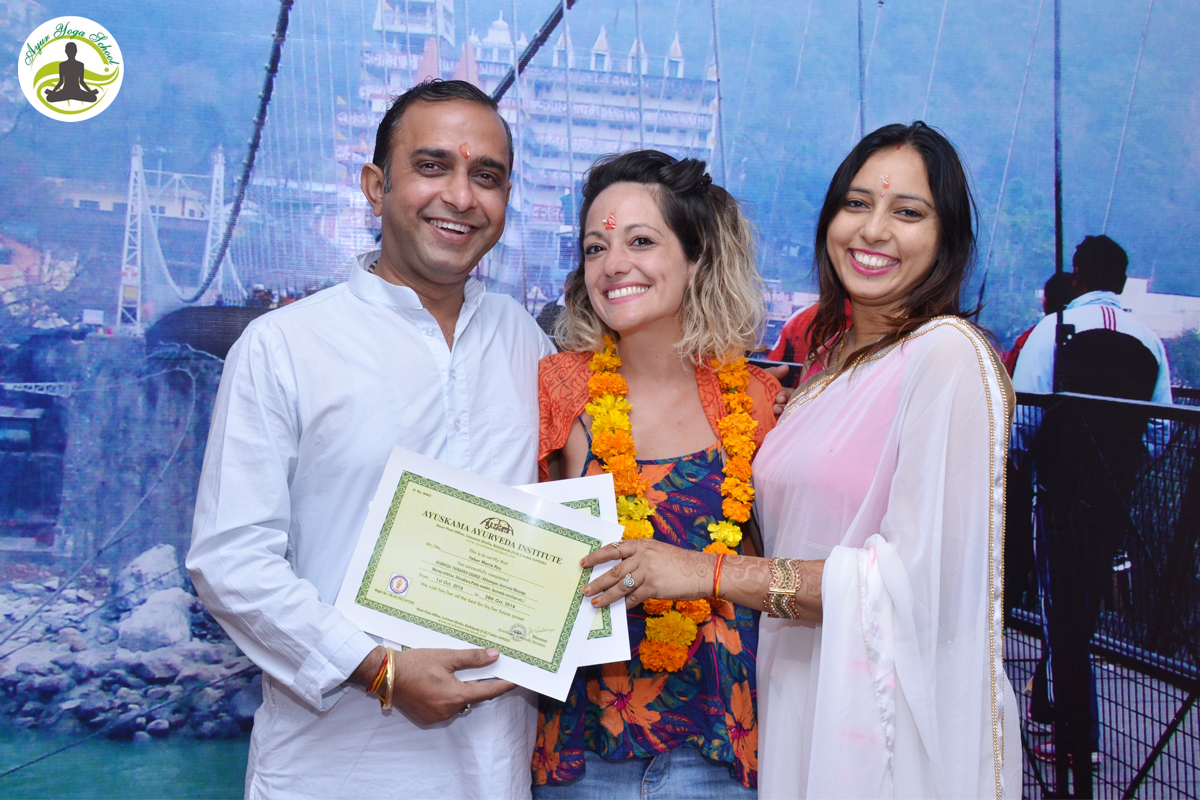 Course Availability : See live date of the course
Eligibility :  No prior Ayurvedic knowledge required.
To Fill in your Application or know Details click here http://www.ayuskamarishikesh.com/contact-ayuskama-rishikesh/application-form/
Live Dates of the course :-